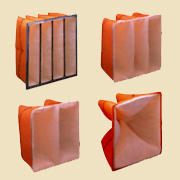 Dustlok Cube Filters
Fiber Bond's extended surface filters offer true depth-loading, a long service life and are MERV 9 rated. All are manufactured from dual-ply Dustlok® Cube Filtersmedia containing an aggressive composite adhesive with the ability to absorb particles and continuously renew its effectiveness. Large particulates are trapped in the white air entering section, while the orange dense area effectively stops finer particles.
Spor-Ax® Antimicrobial
Spor-Ax controls growth of mold, mildew,algae, and fungi on filters. Fiberbond's Spor-Ax antimicrobial is part of the manufacturing process, not a costly, post-application. The elimination of microbial growth reduces resistance and extends service life.


Types of Cube Filters

Dustlok Cube Filter
Dustlok Star-Shaped Cube's tapered design provides 100% media utilization in a 15-inch depth. Its 9-gauge internal grid locks the filter in place, preventing bypass of unfiltered air.

Dustlok 440 Cube
Fiber Bond's 440 2-pocket Cube offers extended surface area which reduces initial resistance and increases service life. The internal grid and extended media seal the filter tightly into holding frames.

Dustlok 660 Cube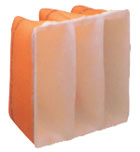 The Fiberbond DUSTLOK 660 CUBE design provides three large tapered pockets fifteen inches in depth. The 660 design delivers increased dust holding where there are high concentrations of particulate.

Dustlok 30-HC
The Fiberbond DUSTLOK 30-HC is a multi-pocket filter twelve inches in depth. The 12" deep multi-pocket filter is designed with heat-sealed pocket edges and internal dividing bars. It delivers exceptionally high dust-holding and extended service life.
---
Dustlok Cube - Star Shaped
| | | | |
| --- | --- | --- | --- |
| Nominal Size* | Air Flow | Resistance | Media Area |
| Inches | CFM | @ 500 fpm | sq ft |
| 12x24x15 | 1,000 | 0.26" | 7.9 |
| 16x20x15 | 1,110 | 0.26" | 7.7 |
| 16x25x15 | 1,340 | 0.26" | 8.9 |
| 20x20x15 | 1,400 | 0.26" | 8.7 |
| 20x24x15 | 1,660 | 0.26" | 9.6 |
| 20x25x15 | 1,740 | 0.26" | 9.8 |
| 24x24x15 | 2,000 | 0.26" | 10.6 |
DUSTLOK 4400 CUBE - 2 Pocket
| | | | |
| --- | --- | --- | --- |
| Nominal Size* | Air Flow | Resistance | Media Area |
| Inches | CFM | @ 500 fpm | sq ft |
| 12x24x15 | 1,000 | 0.21" | 7.3 |
| 16x20x15 | 1,110 | 0.21" | 12.3 |
| 16x25x15 | 1,340 | 0.21" | 13.7 |
| 20x20x15 | 1,400 | 0.21" | 12.3 |
| 20x24x15 | 1,660 | 0.21" | 14.2 |
| 20x25x15 | 1,740 | 0.21" | 14.2 |
| 24x20x15 | 1,660 | 0.21" | 14.2 |
| 24x24x15 | 2,000 | 0.21" | 14.6 |
DUSTLOK 660 CUBE - 3 Pocket
| | | | |
| --- | --- | --- | --- |
| Nominal Size* | Air Flow | Resistance | Media Area |
| Inches | CFM | @ 500 fpm | sq ft |
| 20x20x15 | 1,400 | 0.20" | 17 |
| 24x24x15 | 2,000 | 0.20" | 19.3 |
DUSTLOK 30-HC Cube
| | | | |
| --- | --- | --- | --- |
| Nominal Size* | Air Flow | Resistance | Media Area |
| Inches | CFM | @ 500 fpm | sq ft |
| 12x24x12-2 | 1,000 | 0.20" | 9.4 |
| 16x20x12-3 | 1,110 | 0.20" | 12.6 |
| 16x25x12-3 | 1,400 | 0.20" | 14.1 |
| 20x20x12-3 | 1,400 | 0.20" | 12.6 |
| 20x24x12-3 | 1,660 | 0.20" | 14.1 |
| 20x25x12-4 | 1,740 | 0.20" | 14.1 |
| 24x12x12-5 | 1,000 | 0.20" | 11.9 |
| 24x20x12-4 | 1,660 | 0.20" | 16.8 |
| 24x24x12-4 | 2,000 | 0.20" | 18.8 |
| 25x20x12-4 | 1,740 | 0.20" | 16.8 |
*Nominal Size = width x height x depth