ECO Green Panel Filter
We have worked with our manufacturer to develop this new ECO panel. If you have been using our Dustlok panel it just got better. We are proud to introduce our ECO Green MERV 8 panel filter. Featuring a low initial resistance to airflow. It's green air exiting side is made from recycled pop bottles and it's internal wire is made from recycled metal.
Benefits
Same MERV 8
Lower Pressure Drop
High Dust Holding Capacity
Antimicrobial
1 1/2 inch Nominal Loft
UL Standard 900 Tested and Approved
4 Filtration Zones
---

Description
Our ECO Green Panel Filter is an excellent choice for retention of small air borne particulates. Two layers of Polyester are heat sealed around a recycled metal grid. The air inlet side of the filter is a white; multi-denier coarse polyester. The air exit side of the filter is our ECO Green, fine-denier tackified polyester made using recycled plastics. With these dual layers of media, the adhesive stops and retains small particulate.
---
Specifications
Product:

ECO Green Panel Filter

Clean Resistance to Airflows:

Velocities (FPM)

Resistance (in w.g.)

100

0.03 - 0.05

200

0.10 - 0.12

300

0.18 - 0.21

400

0.29 - 0.33

500

0.39 - 0.44

Average (initial) Standard ASHRAE 52.2 Efficiency - MERV 8 @492FPM

- Two layers of heat sealed around a metal grid

- Recycled plastic and metal wire

- 1-1/2" Nominal Thickness

- Four Filtration Zone

- Two Ply
---
EASY INSTALLATION OF ALL ECO-GREEN LINK FILTERS
Typical side access track.
Example of 20 x 80 eco-green ready to install.
Always fold top and bottom salvage
edge toward the upstream direction of track.
Eco-Green link filter installed with
no by-pass and 100% filtering area.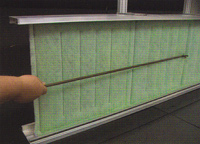 For difficult applications, a steel rod can be
used to ease the link down the track.
Shown is a nominal 20" height by 80" length link. Four continuous 20" x 20" panels.