Air Bear Filters
Our AIR BEAR filters are a convenient replacement for the Trion Air Bear & Air Bear Cub and new Trion air bear products. These filters offer an easy and quick alternative that will save time and money when replacement of the original filter is necessary. All filters are rated MERV 8 when tested in accordance with ASHRAE 52.2 testing method and are U.L. listed. A gasket is standard on all models.
Our air bear is rated MERV 8 which means the filters effectively remove mold, spores, pollen, and other airborne contaminants.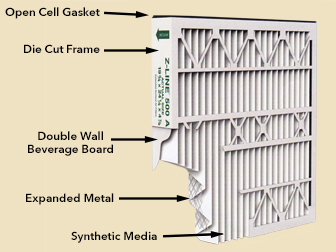 Thanks to an extended surface pleated filter with maximum dust-holding capacity, and 100% electro statically-charged synthetic fiber, the air bear series provides a very low resistance, enabling the heating system to run cleaner and more efficiently, while saving on energy bills.
---
All our Air Bear filters come factory assembled to assure quality and easy installation since there are no separate parts or complicated assembly. Installation is easy as ONE-TWO-THREE:
Remove the internal plastic housing from the external metal housing.
Remove the dirty filter and its components.
Install the Filter with metal grid (air leaving side) facing up, and close the plastic housing and install back into the metal housing.
---
Air Cleaner Cross Reference Guide
Trion Part Number
AirCub 229990-101
Reliable Part Number
AFP16253AB
Trion Part Number
AirBear 229990-102
Reliable Part Number
AFP20255AB
Trion Part Number
AirBear 455602-119
Reliable Part Number
AFP16255AB
Trion Part Number
AirBear 455604-019
Reliable Part Number
AFP20205AB
| | | |
| --- | --- | --- |
| | | |
| AFP16253AB | 15 3/4 x 24 1/8 x 2 15/16" | |
| AFP20255AB | 19 3/4 x 24 1/4 x 4 15/16" | |
| AFP16255AB | 15 5/8 x 24 1/8 x 4 15/16" | |
| AFP20205AB | 19 3/4 x 20 5/8 x 4 15/16" | |
* price does not include shipping