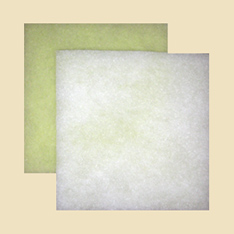 SprayMax Overspray Media
Our new SprayMax Filter EP™ Media by Fiberbond can eliminate over-spray from equipment, ductwork and stacks, minimizing labor cost on clean-outs and minimizing pollution and potential EPA fines.
High Paint Capacity
Long-lasting media requires fewer changes increasing time between change-outs thus reducing downtime. Because SprayMax media is capable of holding many times its weight without tearing or collapsing, it helps decrease operating costs.
---
High Strength & Moisture Resistance
SprayMax retains its shape rather than collapsing or pulling away from the walls and stops over-spray bypass by eliminating gaps.
Non-hazardous Material
Manufactured with polyester fiber, SprayMax can be disposed as non-hazardous waste depending on the application.